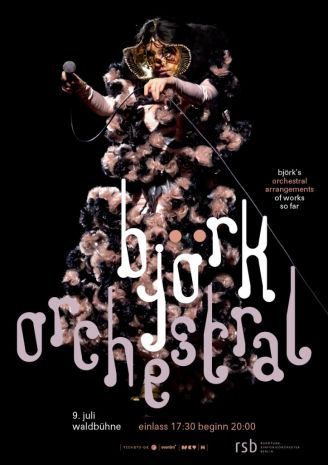 ---
Event type:
Party
City country:
Germany

/

Berlin
Date and time:

09.07.2020

/

20:00
Genre:
Venue:
/ / 2020-07-09 20:00 - 22:00
Price
69,00 - 85,00 Euros
Line-up:
Björk

It should be common knowledge that concerts by Björk are actually ALWAYS a spectacle. Because jus about anything can happen. Brain-bursting visuals, instruments you have never seen in your life, outfits that look as if they were not designed in Paris, but two light-years behind Venus. After Björk's most elaborate stage performance to date, "Cornucopia", she will embark on a new Tour in 2020 "Björk Orchestral". In contrast to Cornucopia's elaborate stage production, the Icelander will concentrate on the acoustic string arrangements of her previous works on this tour.
It happened every now and then in Björk's amazing career that she performed with a classical orchestra. Her "Vespertine" tour at the beginning of the 2000s already featured over 50 orchestra musicians, the electro duo Matmos and a harpist. In 2017, she reduced the electronic part of her music briefly to zero and played a fantastic show in the Walt Disney Concert Hall with the Los Angeles Philharmonics.
The reviews for this "unplugged" orchestra show were downright hymn-like. Pharrell Williams and Florence Welch (Florence And The Machine) were also in the audience at that time and afterwards enthused about the musical quality, the new sound experience and especially Björk's voice and her charisma on stage. After these words of praise, we are all the more pleased that Björk will play a concert at the Waldbühne in July as part of her "Orchestral Tour" together with the Rundfunk-Sinfonieorchester Berlin (RSB) - conductor: Christiane Silber.