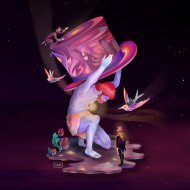 Get out your moon glasses
The Sturgeon Moon is full
And charging like a bull

Lunar rays
Traced back to a particular lunar phase
Electrify your forehead
Open up the cage

Everything is final, now
The curtains drop to stage

This character I've played
Long ago revealed itself
As a blip to overcome

Not sudden, like a gun
Unfolding, one by one

And whether layers peeled
Or, perhaps, revealed
There's more and less
To any One

Not falling, like a ton
Rather rising, like a Sun

And these stars that shine
And feed planets or nothing

And that familiar ring
To a Universe projected in illusions of somethings

Everything confusion
Until nothing else remains

And the Love you are repaves
The roads you thought you'd laid

And everything has changed
But your Heart beats just the same.

"Somethingness" by eltonbomB © 2019
Mastering by Robert Trifunović
Cover Art by Ivan Blažetić Šumski
www.facebook.com/sumski.art

We would like to say THANK YOU to everyone who has supported us for the past three years!
Much love from the MOD team!