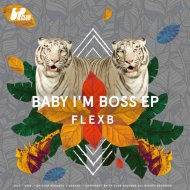 5 years after the release of the track "Baby I'm Boss" that had great performance in the specialized industry and reached important numbers, a Remix Contest was created to celebrate it. The entry of the competition was open to the public for little more than a month and more than 300 productions were received of the most varied musical styles, which were analyzed individually by FlexB himself and his team.
With the decision of the winners as the final goal of the process, Baby I'm Boss EP, released by Up Club Records, comes with 5 tracks.
Second place went to producer Cream Cream, who dared to explore a style with a lot of dance floor pressure in a very well built trap track. For the first place, it went to the duo Gorillowz, who opted for a more groovy and modern take of tech house.
Apart from the winners there is a rework of the original track produced by the FlexB himself that clearly shows evolution and modernity, and also a remix from the guest duo Shapeless.
In addition there is also the original version in this great EP.