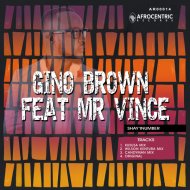 Number 1 on the top 100 most played songs in SA
Number 1 on SoulCandi SA top 10 charts

Afrocentric Records welcomes fast rising DJ & Producer Gino Brown with his infectious single Shay'INumber

Sang in Zulu by Mr Vince the vocals are catchy and have you singing along after the first listen. Gino's production is simple but highly effective with a consistent synth line and tight instrumentation throughout giving the track a definite anthem feel.

For a track of this stature we have drafted in three of Afro House music hottest and most creative producers.

First up is what some say is the future of the Afro House sound the dymanic duo which is Kususa consisting of Kunzima Theology and Samurai Yasusa they turn the original on its head and produce an atmospheric afro tech monster brimming with their signature soundscape.

Whilst the Afro King of Angola Wilson Kentura brings the heat with a straight up dance floor banger with industrial swirling synth's and a snare to make your bones rattle.

The next remixer needs no introduction with releases on some of the most respected labels in the Afro genre, Candy Man brings the heat with his trademark intricate drum programming and delicate keys with a breakdown and build up which will case mayhen on the dance floor.

We conclude the package with Gino's original mix and once you hear it you will realise why its still one of the most played songs in SA 7 months after release


Gino Brown – the affirmed lover of music. Having released a hit single "Body Language" which went on South African radio stations and infiltrated Africa.

Apart from penetrating the radio stations, the hit single received recognition as numero uno on MTV Base for 4 consecutive weeks. In Africa, the single has been number one on Nigeria radio stations amongst which is The Beat FM, Paradise FM and Niger 102 FM and play listed in Ghana on YFM and radio stations in Uganda. "Body Language" went further to Top 20 in Africa on Trace TV and Channel O. His career highlights include: nomination for the Metro FM Awards, Big Brother Africa and LIVE Amp performances.
In 2015 Gino Brown was the first South African artist to perform at the prestigious Gidi culture fest held in Lagos Nigeria. The festival is dubbed the biggest beach party in Africa. Gino performed alongside great artists across Africa, such as the legendary Congolese artist Awilo, Kenyan singing sensation Victoria Kimani,Vanessa Mdee from Tanzania and Burna Boy.
Inspired by the likes of Black Coffee, he aspires to infuse the music industry by simply revealing to the world who Gino Brown is.