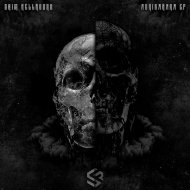 We are glad to present you debut EP from project called Grim Hellhound, release consists of experiments of crossing techno and drum and bass music, light deep vibes and atmosphere of cyberpunk.

Leading track is a tune that called Aokigahara - this is a forest in Japan, that have a bad glory, because pople are doing suicides in this place, and we tried to show the atmosphere of this place.
Tracks "Cant See" and "Ever" are representing the modern sounding of drum and bass music with the taste of minimalism and deep.

"Exotic Matter" has become a pure experiment, with understanding that you dont need to bound yourself with one genre and you have to search for new exotic matters in music.