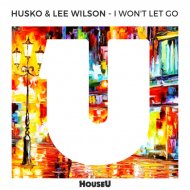 Lee Wilson is an american singer who we are working with the second time now at HouseU. His sound is a crossover hybrid of many styles, not the least of which include House, R&B, and Pop. In 2019 Lee Wilson spent most of the year in the studio and touring around Europe playing shows. The hard work has paid off and he was crowned #4 on Traxsource's Top 100 Vocalist of the year. Lee Wilson has teamed up before with Todd Terry, Kenny Dope, Angelo Ferreri.

Husko is a maltese DJ/producer who mainly prefers house and tech house genres. He has signed tracks to labels such as Toolroom Records, Glasgow Underground and CUFF whilst having DJ's such as Denis Sulta, Amine Edge and DANCE and even the legendary Annie Mac play out his music. Even received support on BBC Radio 1.

Husko and Lee's collaboration resulted the 'I Won't Let Go' titled record where both of the artists showed their talent in. This track was made on House genre basics but even if it's soft we can find the Tech tools what tipically belong to Husko. The track became complete with the perfect vocals thanks to Lee. It will be a guaranteed adored song among disc-jockeys and will climb on the hit lists.