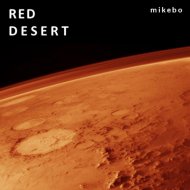 Now the time has come – mikebo's long-awaited concept album has been published!

mikebo's new album "Red Desert" addresses the mankind's both ancient and highly topical dream: To leave this planet and to strive for the stars.

One of the most tempting destination, leaving our moon aside, is certainly our neighbouring planet Mars. The red planet is a mysterious place with plenty of unanswered questions, especially regarding possible parallels between both the earth and the Mars. Some of these questions haven't even been asked yet…

The journey from the first idea to the completion of a whole album is a long one. Owing to favourable circumstances mikebo got support for his album "Red Desert" from the French artist Phil Steff.

Phil is not only DJ and remixer; he also owns the label TAMARIS Records and is a very talented guitarist. He joined mikebo in three songs: In "Red Desert" with his electric his guitar and his Mellotron, in "the Visitors" with his glissando guitar and in "Expanse" again with his electric guitar.

Merci Beaucoup, Phil. Great job!