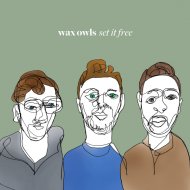 When asked to describe Wax Owls, Alex, a rising kindergartener at PS 40 elementary school, described their sound as "[m]ore likely non singing in the first part but then it sounded very with singing in the second part."

Alex then went on to explain that "[i]t was awesome, extremely awesomer [sic] than all of the other songs I heard. I loved it even more than Shake It off, Shotgun, and Old Town Road. It sounded like beautiful music on the beach. I think I love it but [my sister] Charolette looks like she loves it more than me but definitely I love it more than her even though how much she changes her mind to get a higher number than me. Then I love it! I love it more than her though she even loves it more than me."

However, Charolette --now a 6th grader-- suggested that Wax Owls could "[m]aybe add the lyrics to be more clear." She then qualified her critique, noting that "the noises were very good."

Have a listen and see if you agree.