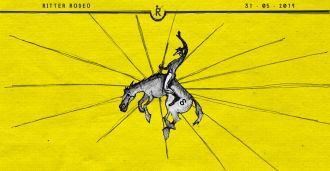 ---
Event type:
Party
City country:
West Germany

/

Berlin
Date and time:

31.05.2019

/

23:59
Genre:
Venue:
Ritter Butzke / Ritterstrasse 26; Kreuzberg; 10969 Berlin; Germany, Germany / 2019-05-31 23:59 - 10:00
Price
Line-up:
Hector Couto
Mathias Kaden
Mladen Tomic
Yetti Meißner
Sokool
Sarah Wild
Ionah Inept
Techno Jesus
Soul Bait

If anyone needed a proof for the intensity of the Rodeo nights, they received it in our last edition in March. An unforgettable night in which magic was curated, created and executed on three floors - all very different from one another, in front of the perfect balance between Section 8 circles of hardcore Berliner clubbers and a beautiful international flare, brought by those who might only be visiting our city, but knew exactly why they are there with us.

This is, in a way, the story of most of the Section 8 events: a friendly, welcoming and education attitude to a scene which is otherwise not always so. Creating this balance consists of musically curating those acts that are well established in Berlin, yet wink to the international crowd. Despite different genres, all adhere to the one common denominator - the one that makes our nights so powerful - ENERGY!
Being held on Fridays, our Rodeos are no place for minimalism. The weekend has just begun, the weekday burdens still cling to our clothes when we put them on before the night. We are there to rid you off those. We are there to carefully inject the exact right amount of energy, transmitted by music, into your veins, sending you off on the perfect start for a perfect weekend.

Normally, this would be the part in which we start talking about the lineup for this current edition. However, one quick look and you'll find out that this time, the lineup speaks for itself.

Hold on tight, cowgirls and cowboys, another wild ride is approaching!

---

Falls jemand immer noch einen Beweis für die Intensität der Rodeo-Nächte brauchte, so bekam er ihn in unserer letzten Ausgabe im März. Eine unvergessliche Nacht, in der auf verschiedenen Floors Magie kuratiert, kreiert und gelebt wurde - alle drei sehr unterschiedlich, um die perfekte Balance zu schaffen, zwischen den Section 8-Kreisen der Berliner Hardcore-Clubgänger und einem wunderschönen internationalen Flair, das von denen mitgebracht wurde, die vielleicht nur Gäste in unserer Stadt sind, aber genau wussten, warum sie zu uns kommen.

Dies ist gewissermaßen die Geschichte der meisten Section 8 Events: eine freundliche, einladende und bildende Einstellung zu einer Szene, die ansonsten leider nicht immer so ist. Um diese Balance zu schaffen, müssen die in Berlin etablierten Acts musikalisch so kuratiert werden, dass sie auch dem internationalen Publikum zuzwinkern. Trotz unterschiedlicher Genres folgen alle dem einen gemeinsamen Nenner - dem, der unsere Nächte so kraftvoll macht - ENERGIE!

Da unsere Rodeos Freitags stattfinden sind sie absolut kein Ort für Minimalismus. Das Wochenende hat gerade erst begonnen, die anstrengende Woche hängt noch immer an unserer Kleidung, wenn wir sie am Abend anziehen. Doch wir sind da, um euch davon zu befreien. Wir sind da, um euch sorgfältig genau die richtige Menge an Energie, durch Musik, in eure Venen zu spritzen und euch so in den perfekten Start für ein perfektes Wochenende zu schicken.

Normalerweise wäre dies der Teil, wo wir über das Lineup für diese aktuelle Ausgabe sprechen. Doch ein kurzer Blick und ihr werdet feststellen, dass es diesmal für sich selbst spricht.

Haltet euch fest, Cowgirls und Cowboys, ein weiterer wilder Ritt rückt näher!