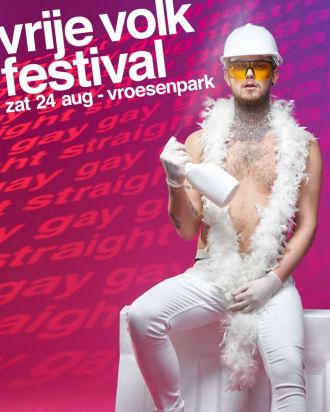 ---
Event type:
Party
City country:
Netherlands

/

Rotterdam
Date and time:

24.08.2019

/

13:00
Genre:
Venue:
Vroesenpark / Stadhoudersweg 181, 3039 MC Rotterdam, Netherlands, Netherlands / 2019-08-24 13:00 - 23:00
Price
€25
Line-up:
TBA

vrije volk festival - zaterdag 24 augustus 2019 - vroesenpark, rotterdam.

vrije volk festival is dé afsluiter van het rotterdamse festivalseizoen. voor dik/dun, arm/rijk, gay/straight, man/vrouw, introvert/extravert, jong/oud, stads/dorps, trans/cis, iedereen. het vrije volk verzamelt, zorg dat je erbij bent.

wees vrij op het vrije volk festival met een mainstage vol performers, shows, kunst en een tweede stage die wordt gehost door de lekkerste lokale partij.

tickets nu on sale!
vrij blind - €25

-----

vrije volk festival closes rotterdam's festival season in style. this festival is for everyone who's free: male/female, gay/straight, trans/cis, young/old, rich/poor. rotterdam's only open-minded festival gathers the free folk in cosy city park vroesenpark.

the first tickets are now on sale for €25!