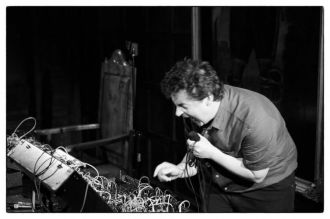 ---
Event type:
Party
City country:
Germany

/

Berlin
Date and time:

29.07.2020

/

20:00
Genre:
Venue:
Musikbrauerei / Greifswalder Str.23A Berlin, Germany, Germany / 2020-07-29 20:00 - 23:30
Price
10 RUR
Line-up:
Miguel Noya (VE) | NEWdOG Records
Finlay Shakespeare (UK) | Editions Mego
► Miguel Noya is a Venezuelan composer and live electronic music pioneer whose work swings from cosmic electronic experimentation to techno. Influenced by '70s synthesizer music, his landmark album 'Gran Sabana', released independently in 1984, is most reminiscent of Kraftwerk and space synth:
https://youtu.be/zDEYga2gZyY
► Finlay Shakespeare is an English musician whose edgy synth pop and art-rock music is an homage to the likes of Depeche Mode and the Human League, melded into Talking Heads style art-pop records, like his 2019 debut 'Domestic Economy'. After an array of releases under the moniker Future Image, Shakespeare decided to move away from the IDM sound of his previous work, bringing in vocals and a decidedly more pop edge:
https://youtu.be/D_OsTn4kSVs
Since 2015 the Kiezsalon has offered a forum for innovative musical activity beyond genre boundaries. As an interface between avant-garde, advanced pop music and interdisciplinary art, the series presents compact performances by artists of diverse genres, origin and status. Initiated by Digital in Berlin and based at one of the last authentic locations in Berlin – the 120-year-old Musikbrauerei. Following 5 exciting years, the Kiezsalon has established itself as one of the most popular and successful series in Berlin, so far hosting more than 100 acts from 32 countries:
www.kiezsalon.de
There is limited capacity to the salon. We recommend to buy tickets in advance via:
https://tickets.kiezsalon.de/
Coming next:
August 29: Summer Kiezsalon w/ TBA
September 30: Kiezsalon w/ Noplace Trio & Shida Shahabi
October 28: Kiezsalon w/ Jason Sharp & Justin Wright
The Kiezsalon is curated by Michael Rosen and funded by Senate Department for Culture and Europa.
Photo © Fabio Lugaro