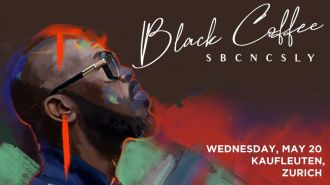 ---
Event type:
Party
City country:
Switzerland

/

Zurich
Date and time:

20.05.2020

/

23:00
Genre:
Venue:
Kaufleuten / Pelikanstrasse 18; 8001, Zürich; Switzerland, Switzerland / 2020-05-20 23:00 - 06:00
Price
Line-up:
Black Coffee
Bringing South African house music to the world
Zu Beginn des Jahres 2020 aufgeladen und begierig, seine Musik mit der Welt zu teilen - macht sich Black Coffee auf den Weg zu seiner sehr sorgfältig kuratierten SBCNCSLY-Tournee.
Nkosinathi Maphumulo, alias DJ/Produzent und Unternehmer Black Coffee, ist zur wohl grössten musikalischen Sensation Südafrikas geworden. Er ist bekannt für seine Fusion aus Deep House und südafrikanischer Instrumentierung und Gesang und steht an der Spitze der dynamischen Tanzszene seines Landes. Nach Jahren der Perfektionierung seines DJ- und Produktionshandwerks haben seine zahlreichen Singles wie "We Are One" für Vega Records und Alben wie 2015 "Pieces Of Me" für Universal dazu beigetragen, seinen Ruf als Künstler zu sichern, der in der Lage ist, die Glaubwürdigkeit von Clubs mit der Zugänglichkeit von Popmusik in Einklang zu bringen. Der südafrikanische Superstar Black Coffee wurde 2017 als erster Resident im neuen Hï Ibiza Club
(dem ehemaligen Space) bekanntgegeben. Seitdem hat der mit Doppelt-Platin ausgezeichnete Künstler sein von Tribal und spirituellen Einflüssen inspiriertes Ambiente und innovative Line-ups in den Club an der Playa d'en Bossa gebracht.
Obwohl Black Coffee aufgrund seiner Tournee-Verpflichtungen nicht viel mit der Studioarbeit anfangen konnte, fand er Zeit, die raffinierte kommerzielle Zusammenarbeit von "LaLaLa" mit dem R&B-Sänger Usher in Angriff zu nehmen - das jüngste Anzeichen seiner musikalischen Ausrichtung für den Star nach seiner David-Guetta-Kooperation "Drive" im vergangenen Jahr.
Für seine exklusive SBCNCSLY-Tournee kehrt Black Coffee am 20. Mai 2020 in unsere Hallen am Pelikanplatz zurück.
Dieser Event ist ab 21+ Jahren.
Official Presale :
https://kaufleuten.ch/event/black-coffee-1/