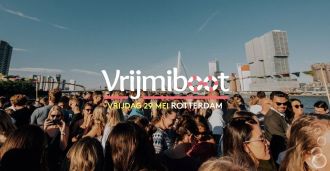 ---
Event type:
Party
City country:
Netherlands

/

Rotterdam
Date and time:

29.05.2020

/

18:30
Genre:
Venue:
Boot 010 / Boompjes 750 3011 XZ Rotterdam Netherlands, Netherlands / 2020-05-29 18:30 - 23:30
Price
14,50 - 19,50
Line-up:
tba
Our season opening in Rotterdam will be held on May 29th, get ready for one of Hollands most notorious nights out.
The Vrijmiboot, a massive boat with capacity of 600 people will cruise in Rotterdam and departs from the Boompjeskade. Sterk Water, and Yoti cater delicious vegetarian- and non vegetarian food and tasty cocktails.
➡ When: Friday 29th of May. Boarding at 18:00 and the boat departs at 18:30. We are back at 23:00.
➡ Music: our DJ's play everything from house, disco, pop, r&b and classics
➡ Tickets: €14,50 - 19,50 at
www.v-m-b.com
➡ Food: We love good food so expect some amazing food