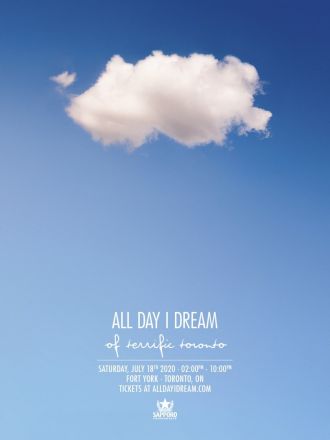 ---
Event type:
Party
City country:
Canada

/

Toronto
Date and time:

18.07.2020

/

14:00
Genre:
Venue:
Fort York National Historic Site / 250 Fort York Blvd, ON M5V 3K9, Canada, Canada / 2020-07-18 14:00 - 22:00
Price
Line-up:
TBA
ALL DAY I DREAM OF TERRIFIC TORONTO
PRE-SALE SIGNUP:
http://smarturl.it/ADID2020
PRE-SALE: FEB 27th @ 1PM
GENERAL ON-SALE: FEB 28th @ 12PM
☁️
July 18th, 2020
Fort York National Historic Site
250 Fort York Blvd
Toronto, Canada
☁️
Lineup:
TBA
☁️
All Day I Dream loves Canada (and, secretly, we know you love us too). We're really excited to be returning to Toronto once again this July with open arms (great for hugging) and hearts for another afternoon of blissful sounds and groovy baselines.
If you've joined us in the past you know there's always something special in the air at our event. Smiles fill the dance floor all day and, as the sun sets, the party becomes more magical by the minute. We hope you're able to join us for another epic adventure in Fort York Historic Park. If you're there it'll be just that little bit better.
☁️
Facebook: facebook.com/alldayidream
Instagram: instagram.com/alldayidreamintheclouds
Twitter: twitter.com/AllDayIDreamOf
Snapchat: @AllDayIDreamOf
Youtube: youtube.com/user/AllDayIDreamOfYou
Soundcloud: soundcloud.com/alldayidream
Resident Advisor: residentadvisor.net/to/adid