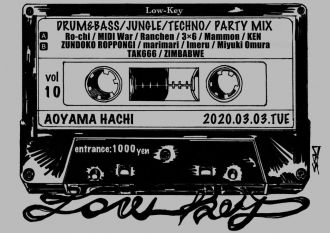 ---
Event type:
Party
City country:
Japan

/

Tokyo
Date and time:

03.10.2020

/

18:30
Genre:
Venue:
Aoyama Hachi / 4-5-9 Aoyama Building, Shibuya, Shibuya-ku, Tokyo, Japan, Japan / 2020-10-03 18:30 - 23:30
Price
1000yen
Line-up:
■Guest DJs
Ken (Hangover)
3x6 (DEAD SECT10N)
TAK666
Ranchen (DefDistortion / Hardmasterz / Darkside Approach)
Ro-chi (BlackBox / Exclusive)
Miyuki Omura (MANTLE/METH)
Hisaki

■ DJs
Imeru (METH/Agg)
MIDI War (METH)
Mammon (Revolt)
Zundoko Roppongi (ボンパ!/Low-Key)
ZIMBABWE (Low-Key/Revolt)

東京の地下を支える実力派DJを
Drum&BassとJungleとTechnoの元に集約し
高速6号渋谷線を眼下に見ながら夜のネオンの輝きと
美味しいお酒と、最高の音楽に触れて踊れるPARTY

【 Low-key】

翌日に響かない程度にセーブする嗜みも、
平日から乱痴気騒ぎしたい方も
メインフロアとラウンジフロアの2フロア構成!

青山の夜空に轟くAmenと地を転がるようなMADDなBASS!!!
バキバキキックをお楽しみアラレ!!

Drum & Bass, Jungle, and Techno
PARTY where you can touch and dance to the neon glow of night, delicious sake, and the best music
【Low-key】
The taste to save so that it does not reverberate the next day, and the fuss of madness are welcome!!!