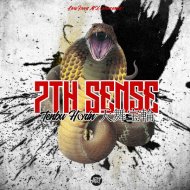 Trépenle al volumen con este material fresco en Low Freq MX!

Problemas al doble en este potente lanzamiento colaborativo del capo colombiano 7th sense. "Why not" junto con el mallorquín Khramer y "Street talk" junto con su compatriota Wave, ambos estupendos temas explorando el lado más gruñon y profundo del Drum and Bass.

Ya superamos los 100 lanzamientos y no hay planes de detenernos!

———

Tun up the volume with this fresh release on Low Freq MX!

Incoming double trouble with this powerful collab release from the colombian capo 7th Sense. "Why not" alongside Mallorca's favorite Khramer and "Street talk" with his fellow countryman Wave, both terrific tunes set to explore de deeper and grumpier side of Drum and Bass.

We are now past the 100th release mark and there's no plans to stop.