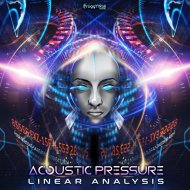 Progg'N'Roll is proud to present a new EP from the master of sound engineering, the 'Acoustic Pressure' called 'Linear Analysis'! Let us introduce you to the artist: My name is Jeff aka « Acoustic Pressure » French-born.
I grew up in the '70s between Disco and Motown Records my father regularly play on the pickup then discovered the Acid house in the mid-'80s with the first raves in England, Life definitely changed…
In 2000 I played in an ethnic trance project with 2 friends called D'Oz Limit for 3 years, a combination of Electronic, Didjeridoo & Violin, we played few gigs in France.
After quite a long break with music production, t's now time to give life to this project.
Now I focused more on trance, psy, and progressive but still love techno, house & chill music."