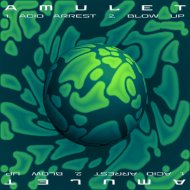 Amulet's first release is high impact by virtue of consistent slamming kicks and explorations on the delivery of bass.

Acid Arrest features a namesake acid line bouncing amongst a hard-hitting bass workout, with rave energy verging on chaotic.

While Acid Arrest is truly maximal, Blow Up is stripped back. A track that builds itself on a low-end, palpitating bassline, Blow Up also finds room for more playful elements of electronic music.