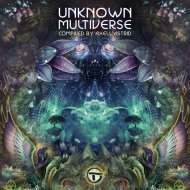 The time has come... We are more than proud to present to the wide World a very first Various Artist's compilation released inside our constant growing label . Unknown Multiverse , under this slightly mysterious and cosmic codename there is another completely new and amazing story designed and created by the already well-known in the psychedelic world thanks to many of his excellent and warm received around the globe previous projects , speaking about an truly Psychedelic Trance visionary and a great DJ, Axell Astrid .
His welcome release to 1.2.Trip Records family combines a super wide range mixture of psychedelic styles and almost full spectrum of psytrance . From dusty groovy old school sound inspired by minimal psy, psy-techno and 90's trance music, up to completely out of control atomic Hi-Tech blast , going from start till end trough a strongly rolling , joyfull and mesmerizing soundscapes of both: daytime and nigh time psychedelia flavour.
Turn up the volume , close your eyes and let the music take over your mind , your body and your soul, far away to the unknown.