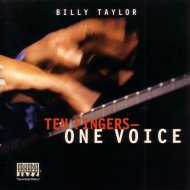 Jazz master pianist, composer, journalist and educator Billy Taylor stands alone both figuratively and literally with his CD, Billy Taylor: 10 Fingers, One Voice. Only the 2nd solo recording in his 65 year career, the Billy Taylor that emerges here was a surprise – "a daring risk-taker who has absorbed the entire Jazz tradition but now breaks through as an immediately identifiable personal force." (quote from the liner notes by Nat Hentoff)

Now at the peak of his powers, he bring fresh, yet steeped in history of Bop piano style to this robust collection that features both thoughtful originals and classic standards from accomplished composers such as Dizzy Gillespie, Rogers & Hart, Clifford Brown, Jon Hendricks, and Cole Porter.

His career is recognized with the utmost adoration and respect. Dr. Billy Taylor is one of only three Jazz musicians appointed to the National Council of the Arts and currently works as the Artistic Director for Jazz at the John F. Kennedy Center for the Performing Arts. He is a recipient of the National Medal of Arts, and is also known for the artist profiles he hosted as the Arts correspondent for CBS Sunday Morning.

Playing with infectious joy and playfulness, Billy Taylor: 10 Fingers, One Voice showcases Taylor's deliberate and impressive ability to swing dynamically on upbeat numbers and yet play stirringly on softer songs, conveying both his passionate melodic soul and his blissful energy – resulting in a solo piano recording with a depth that makes repeat listening an imperative.