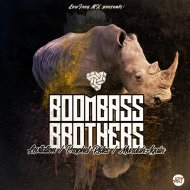 Its jungle o'clock with your bredrins at Low Freq MX!



Massive EP incoming from the badass duo that is Boombass Brothers, a really well balanced collection of 3 thumping tracks with the authentic imprint that distinguish this two gentleman from Córdoba, Spain.



Keep your ears ready, and we'll keep bringing tons of good music.


———————



Es la hora del Jungle con sus bredrins acá en Low Freq MX!



Les traemos un enorme EP del genial dúo que son Boombass Brothers, Una colección de 3 tracks descomunales que portan el auténtico sello que caracteriza la producción de este par de caballeros de Códoba, España.



Mantengan su oído listo, y les seguiremos trayendo toneladas de buena música.