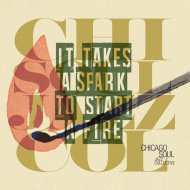 Chicago Soul Jazz Collective is a jazz sextet dedicated to hard grooving, spirit lifting original compositions and improvisation.

The CSJC began in 2017 with a shared love of classic soul jazz and their early live performances were dedicated to exploring the signature and rarer gems of great soul jazz recordings.

They documented these early performances in their debut recording, SOULOPHONE. The debut was released in February of 2019 and has enjoyed commercial and critical success while reaching #11 in the Jazz Charts and finishing at #26 in the coveted JazzWeek Year End Top 50 Charts.

After the release of SOULOPHONE, the CSJC began to create their own compositions and carved out a unique ensemble sound. They used soul jazz as their launching point and based on those shared influences and discoveries made through live performance a new sound emerged that was unmistakably their own.

Their second recording, IT TAKES A SPARK TO START A FIRE, will be released October 16, 2020. The new record features 7 original compositions and special guest artists Nicholas Payton and Raul Midon.

The Collective includes John Fournier - tenor sax, Marques Carroll - trumpet, Amr Fahmy - Rhodes piano, Andrew Vogt - bass, Larry Brown Jr. - guitar and Keith Brooks II - drums.