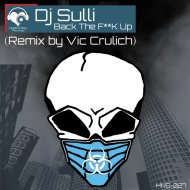 As the world reels from a pandemic, we're all realizing that life will not return to normal for the foreseeable future. In the meantime, we all want to stay healthy and not catch this dreaded virus. As such, im gonna have to ask you to BACK THE F**K UP, please. And keep your mask on!

this new release from Dj Sulli touches on several aspects on the House & techno realm, from deep n tribally, to pumpin bassy house, on the remix duties, gifted up and comer Vic Crulich skillfully pushes the vibe to outright techno.

Look a lil deeper and you'll also find a Trap rap by Dj Sulli that really tells the story about this release. Hopefully sooner than later we'll be able to drop these trax to the masses, but til then this release should have no problem finding a spot in your live stream.

Back it up!