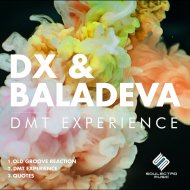 Next on Soulectro Music the 4th Ep from the brasilian artists DX & Baladeva, in Soulectro music - DMT Experience Ep.
This time DX & Baladeva brings a new path through progressive psy trance. Including 3 melodic, explosive and well designed tracks, this EP is ready to rock all the dance floors around the world.
Enjoy this fresh release and keep an eye on this guys because there is much more to come from them!