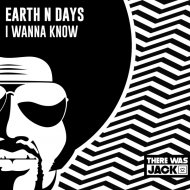 The labelboss Earth n Days returns to There Was Jack with a brand new release again. The favorites of House style approved that they belong to the bests. Almost all of their songs and remixes landed on House top charts and were played by the best names from all around the world. Their former records on There Was Jack, 'Burnin' Up' and 'Hypnotize' performed perfectly on Beatport and Spotify as well, over and above got supports from well know names such as: The Shapeshifters, David Morales, Sonny Fodera and OFFAIAH. Their most popular song on Spotify, 'Just Be Good To Me' is approaching to reach 2 million streams.

'I Wanna Know' is a new outstanding record in Earth n Days' portfolio which can be the absolute favorit among There Was Jack fans and House music lovers as well. The Tech-Funk style - which is represented by the guys usually - can be found in this song. The known House sample, the straight and dynamic groove spiced with a bit House vocals are the bullseye.
The name, Earth n Days is the guarantee of quality House music and it cannot miss from your record bag. Download now and be the first to play it.