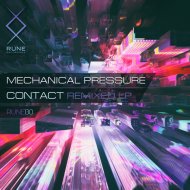 RUNE130: Mechanical Pressure — Contact Remixed LP — is the first album from the series of anniversary releases that marks the 10-year anniversary of RUNE Recordings.

This year we celebrate the first decade in the history of RUNE Recordings. Ten whole years of producing and promoting breaks and remaining one of the leading labels in the genre are behind us, and it's only just the beginning. To celebrate such a milestone and to showcase the magnificence and variety of Breaks, the next ten releases will be dedicated to our beloved genre.

The first of the celebratory releases is the remix-album of the tracks from our leading resident — Mechanical Pressure. The album consists of twelve remixes produced by artists from around the world — England, Germany, Spain, the USA, Hungary, Latvia, Belarus, and Ukraine. We sincerely hope, that everyone who listens to the album, discovers a few tracks that perfectly match their musical taste, as we have a selection of tracks, varying from progressive and tech-breaks, to amen-break and neurofunk drum'n'bass and there's plenty to choose from.

In co-creation of artist-label-listener, everyone wins. And, although, this is not about money, we will never get tired of doing what we love.

Listen and share Breakbeats. Worldwide.