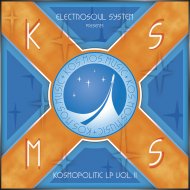 This album represents a wide spectrum of break-beat electronica that is called drum'n'bass, precisely the melodic and atmospheric side of the genre. The album consists of 24 tunes from artists around the globe.

Just as diverse and eclectic the culture of different countries is, having, at the same time, much in common for the mankind, the same way the album reflects the variety of unity in drum'n'bass culture.

In the album one can find different aspects of intelligent drum'n'bass: atmospheric, techmospheric, artcore, microfunk, liquid, deep, leftfield, halstep, psychedelic, euphoric, ambient-dnb and many more similar in sounding of sub-genres and touches of the style. Kosmopolitic is United!