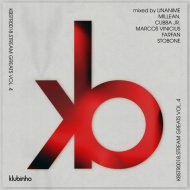 And the time has come for yet another Stream Greats, now in its fourth volume featuring six tracks by new artists that promise a bright future.

The first track is "Move It" by Millean., A Tech-House with a youthful outfit that goes on any track, Cubba Jr. comes with the track "Are U There" with its most underground and full-featured Tech-House. Marcos Vinícius (BR) follows with the third track called "Fuck Off", a more serious and cadenced Tech-House. Farfan with "Backspin", a Deep-Tech full of responsibility and fervor, Stobone with the track "Pamparara" brings more impact to our VA with strong and striking tones.

Finally, we have DJ MIX with the special guest UNANIME.