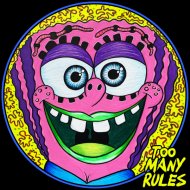 Morgan Seatree brings his music to Javi Bora's imprint Too Many Rules with the incredible "Positivity" EP.

Usually played by the likes of Steve Lawler, Richy Ahmed and Seb Zito, Morgan Seatree brings his quality sound to Javi Bora's brand label with 3 cuts club bangers.

The first cut of the EP, "Positivity", is a timeless track, a real bomb! The second cut, "Reveal ", is a huge song with vocals from the amazing vocalist Mizbee. She added magic to this track! "No More Games" closes the EP in the grooviest way. This track is a trip!

An outstanding EP from these talented artists from UK!