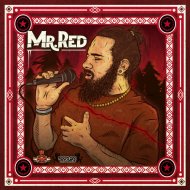 Mr. Red is revolutionizing the Mexican reggae scene with his debut EP "Mr. Red". This EP was produced together with Mexican Stepper, the best known Dub producer in Mexico.

Merging a live band sound with digital steppers production styles, "Mr. Red" brings forward the musical progression from the older Latin reggae bands to the digital dub of these modern days. In his lyrics, Mr. Red sings about life's struggles, about the things that help him overcome his obstacles and the realities of life in Mexico.

Mr. Red está revolucionando la escena del reggae mexicano con su EP debut "Mr. Red". Este material fue producido junto a Mexican Stepper, el productor de Dub más conocido en México.

Fusionando el sonido de las bandas en directo con los estilos de mezcla digital steppers, en "Mr. Red" se presenta la asimilación y la evolución musical de las antiguas bandas de reggae latino al dub digital de estos días.

Mr. Red en sus letras canta sobre las luchas de la vida, sobre las cosas que ayudan a superar sus obstáculos y sobre su realidad y las realidades de Mexico.