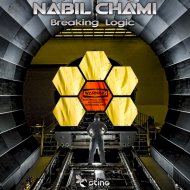 Sting Records happily presents magical new EP from Nabil Chami called Breaking Logic! Nabil Chami is a Lebanese Music Producer and Disk-Jokey, born and raised in LEBANON / ZAHLE, born on the 20th of October 1998.
At a young age, he has experienced music in diversified genres covering Rock & Roll toward Trance through Underground Music.
His passion for music gave him the belief that it is his only way of expressing what he can't express with words as if it is a universal language that makes us telepathically communicate.
Nabil started discovering his abilities and learning music production at the age of 17,
and still is evolving his technics into finding more ways to elevate our energy and tell a different story that touches our everyday life.

"I truly believe that WE shouldn't forget that the main purpose of music is to Unite Us with LOVE & Have FUN ..."