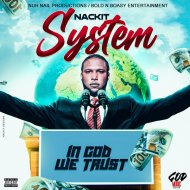 System by Nackit Taken From God Mode Riddim EP.

Title: God Mode Vol. 1 Riddim Various Artistes EP
Artiste: Various Artistes
Product Code: NP: 003BNBS
UPC Barcode: 195039921225
Genre: Dancehall / Reggae
Eight (8) Tracks
Duration: 20:00 Mins
MP3 and CD: UK Code: 0195039921225
Release Date: Oct. 30, 2020
©2020 Label: Nuhnail Productions / Bold N Boasy Entertainment
©2020 Distribution: Symphonic Distribution / Bold N Boasy Entertainment
Dancehall EP. God Mode Riddim Vol. 1 Various Artistes. A Product out of Jamaican.
Water Lane Studio Team Members, Askell Prod, Victory One Prod, Minx Music, Nuhnail Prod, Shawtcut
Art and Bold N Boasy Entertainment.