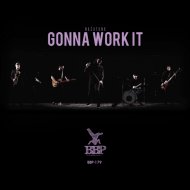 Breakbeat Paradise Recording is on a journey of pushing funk and breaks to a new audience and joining forces with Greek-based Nasa Funk who is on the very same journey. Nasa Funk released their Stand Up track on the Funk Originals 12" vinyl back in 2016 and is now ready to drop their first full EP on the label.

Nasa Funk who consists of Alexandros Spanidis: drums / Costas Chasiotis: bass / Alexandros Papoulidis: guitar / Charis Kapetanakis: saxophone, keys / Georges Perin: vocals, talkbox has been pushing funk and hiphop to the Greek audience since the late 90s which has earned a big following in though-out Greece.
They are now ready to take on the world stage and has cooked up the funk anthem with the Covid relevant title: Gonna Work It. "Love will prevail" as lead singer Georges Perin puts it on this finger snapping, low-slung funk jam.

To complete the package Nasa Funk has teamed up with some of biggest talents in the electronic funk scene who are all giving their signature twist to the Gonna Work It joint.
Starting off with the French producer duo Prosper & Stabfinger who took the track to a completely different dimension by giving it a state-of-the-art nu-disco treatment. Prosper & Stabfinger are known for their funky flavors and has recently journeyed into the world of disco and this remix is certainly a proof that they feel very much at home in that genre.
Next up welcomes back a true BBP veteran and always reliable Jayl Funk who brings the heavy funky beats and skillfully turns the jam into a midtempo banger. Both previously mentioned remixes comewith instrumental mixes.

For some alternative remixes Nasa Funk went to local DJ Mount Ten who took a more laid-back and chilled approach on the Gonna Work It track. Finally well known producer Cayetano took the original funk elements to twisted it into a trap jam. All basses are covered on this package.