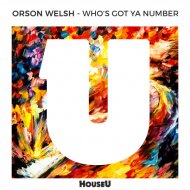 Orson Welsh is a Dutch based DJ and Producer who got in touch with music at his very young ages, he growed up in a musician family.
He has won The Dutch DJ Championships and ranked as Holland's number one. This title has opened some doors for Orson Welsh, who has played at many major clubs around the globe at that time.
Orson Welsh's music can be found today at labels like: Instereo, Hotfingers, WhoreHouse and he is one of the 100 best ranked funky house producers on Beatport.

Thanks to his new song, 'Who's Got Ya Number' a long term cooperation got started between Orson and HouseU. The latest track totally fits in the label's image, it's characterized by dinamic and straight grooves spiced with a little house vocals. It can be a real favorite in clubs what is an indispensable piece of a DJ's repertoire.