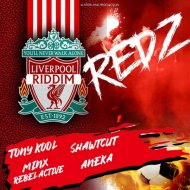 Product: Liverpool Instrumental Various Artistes EP (REDS)
Alternative Title:
Artiste: Various Artistes
Product Code: WLS002BNB
UPC Barcode: 195039782246
Genre: Dancehall
Five (05) Tracks
Duration: 13:00 Min
MP3 and CD: UK: 0195039782246
Release Date: 2020
©2020 Label: Water Lane Studio
©2020 Bold N Boasy Ent. / Symphonic Distribution

Product Bio
Liverpool Instrumental (EP)
From an inspiration to a dream come through, we are the REDZ. Liverpool instrumental various artists project. It's all about the REDS (EP). This album celebrating the victory of Liverpool Fc 30 year's drought in the EPL. This album is a compilation of mix genre with a feel of celebration, victory and team work coming out of Jamaica. This project is idealist to demonstrate love, joy and happiness within nations. REDZ (EP) Feat, "Tek on the Road" by Tony Kool, "Victory" by Shawtcut, "Stay with me" by Minx aka Minky, "Good To Me" by Neeka and the Celebration Instrumental, Liverpool Instrumental.