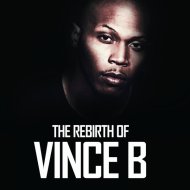 Pop/R&B star Vince B is the quintessential definition of an artist. He's a singer/songwriter, producer, composer, director and manages/cultivate other artists. Not to mention the CEO of his own label Vibe and Vision Studios. This guy is a beast in the industry! He's managed to carve out his own lane in this cookie-cutter industry.

The Artist
Brings a freshness of sound to a semi- stale music entity. He brings a splash of color and creativity to his craft. Work ethic is beyond crazy! Grinds every single day, he keeps going and going never stopping like the "Energizer Bunny". The back to the future approach that Vince B brings to the table in which, he borrows from the past and brings to the future sets him apart from the rest.

The Songwriter
Lyrically, he paints a picture in the form of a story that captivates the listener. His writing approach is very original, distinct, inspiring and imaginative.

As A Singer
His tone is very rich, warm and smooth like butter. There's a sense of meaning, passion, and soulfulness behind his tone. A unique sound that is full of confidence, conviction, and urbanity that's vocally attractive to the ear.

As A Producer
His melodies are very shapely, melodious, catchy and futuristic. Almost like characters playing out the meaning behind his lyrics. Each melody has a cinematic flair and commercial potential. Add everything together and you have the Vince B formula.